"A photograph is a moral decision taken in one eighth of a second" /Salman Rushdi/
This year, the photos must capture sustainable inventions, human partnerships, cooperation for a sustainable economic development, inspirational and empowering activities/scenarios/innovations, under the overarching theme: "A showcase of Empowerment, Partnership, and Innovations for Sustainable and Inclusive Development"
Work that lens of yours for a GOOD CAUSE and win PRIZES! Send your entries and accomplished registration form to: [email protected]. Deadline: October 31, 2013
Ten Photos to Shake the World (TPSW) is ASSIST's pioneer Social Initiative which was launched in 2011 in the Philippines. It is an annual photo competition, developed to stir people's awareness about sustainable lifestyle and inclusive growth, and to encourage involvement on social action through photography.
Through TPSW, people are engaged to look deeper in the current situation of their communities; the photo contest allows participants to explore how and where they can contribute to the change in their society. As they attempt to convey their message through captured images, their visual skills will be put to practice in looking for a more meaningful interpretation of the state of the environment; relationships of people as they work for inclusive growth; innovations for the advancement of the society; realities of poverty and scenarios that shake the world into moving the participants and the audience to take actions – as an individual or collectively.
Aside from being a venue to showcase realities, creativity and passion, TPSW serves as a ground for stakeholders – individuals, government, businesses, private and public social groups and other organizations – to join effort for social impact and sustainable development.
Ten Photos to Shake the World gets featured!
September 12, 2013 issue of the Business Mirror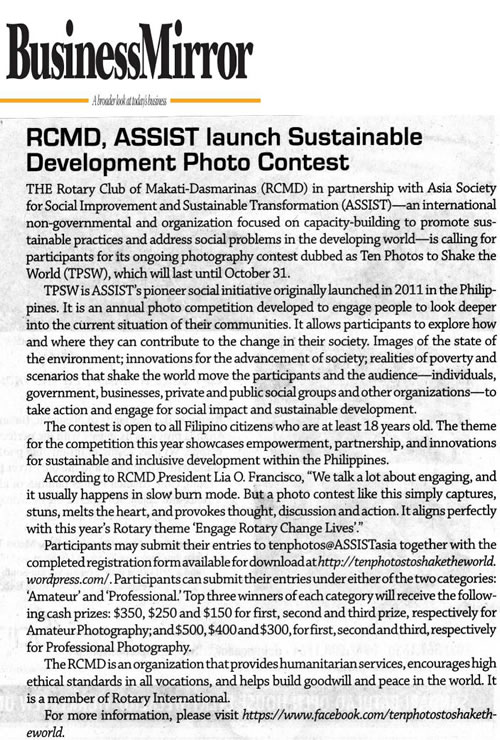 September 13, 2013 issue of the Business World