"The world is again in a time of immense change being brought about by the 4th Industrial Revolution," said Asian Development Bank (ADB) President, Mr. Takehiko Nakao, in this year's Digital Development Forum held last 4-5 September 2018.
Established in 2014 as the Digital Strategies for Development Summit (DSDS), DDF had become a venue for high-impact discussions on ICT for Development. It tackled country and sectoral thematic development strategies towards Digital Economy in Asia and the Pacific.
This year, the forum focused on the development impacts brought about by the 4th Industrial Revolution. Kyriacos Koupparis from USAID said, "The 4th Industrial Revolution will have impacts on how we design our economic growth activities and it will also change, in many ways how we trade and transact across borders."
Over 300 delegates from development institutions, government agencies, the academe, and the private sector in the Asia-Pacific Region, and over 60 international thought leaders and speakers gathered for the 2-day forum at the ADB headquarters in Manila.
The event was hosted by ADB, in partnership with ASSIST. Franz Rana, ASSIST Senior Associate for Events and Partnerships, commented "Organizing the event was rewarding. It created connections and made fruitful discussions on how we can make better use of digital technologies for development." Expressing his sincerest appreciation to all the participants, he emphasized the forum will continue next year.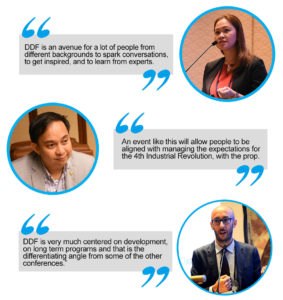 See you then!